World Red Cross Day was observed throughout Nagaland under the theme "Everything we do comes from the heart" with several speakers emphasizing the Red Cross's seven core principles of humanity, impartiality, neutrality, independence, voluntary service, unity, and universality.
Speaking at Raj Bhavan Kohima, Governor La Ganesan said it was a day to honor the contributions of millions of Red Cross volunteers, members, and staff who work tirelessly to protect human lives around the world.
Chairman, Indian Red Cross Society Nagaland (IRCSN) Abeni TCK encouraged everyone to be ambassadors of humanitarian service wherever one may be and be the person that acts, serves and loves from the heart.
Stating that "we live in deeds, not years," Dr Kibangkumba, Chief Medical Officer and Vice Chairman of the IRCS Mokokchung at the Conference Hall of the CMO Office, Mokokchung, recalled Late Dr Sentiyangba who saved many lives in Mokokchung on 27 December 1994 by raising a Red Cross flag in the midst of a tragedy and urged the Junior Red Cross to be the first on the scene in times of tragedy to assist the people.
Red Cross and young people
Sharing her views with Mokokchung Times, Akhale V Khamo, General Secretary, Indian Red Cross Society Nagaland said, "Red Cross is for those who have a passion in their heart for humanitarian service and is sacrificial because one has to give and give and help."
"Nagaland Red Cross has come a long way since it was founded in 1982," she said, adding that her father, Vizol Angami, the former Chief Minister of Nagaland, was one of the founding members of the IRCSN.
Khamo said she feels like she has been a Red Cross member her entire life and also shared about the day she realized the significance of the Red Cross symbol.
"I believe it was 1986 or so, in the month of March. There was a clash between students and the government. Students were demonstrating in Kohima. The police and armies were called in. A pleasant procession turned violent, and shooting broke out injuring many students and college lecturers while two students tragically died."
"The injured men were to be taken to hospitals, but security forces stopped all vehicles and the situation was tense. My father took a white ambassador car and instructed me to paint a red cross on it. So, with red lipstick, we drew the Red Cross all over the automobile, front and back, with large red crosses, and drove, with no one stopping the car. That's when I realized the Red Cross was a peace symbol that could never be attacked."
Speaking about Red Cross awareness, she said because of social media, young people have become more aware and are eager to become members of society. "I feel that young people are now having a heart for such humanitarian service," she said, stressing their importance especially as blood donors.
"With so many diseases going around, we need a lot of healthy volunteers and blood donors because blood donation saves lives," she added.
Focus and challenges
This year, she said, she wants to focus on providing first-aid training at schools and institutions as 'first-aid is administered before going to the hospital and before the doctor arrives'. And hence, everyone should know basic first aid.
She expressed joy that schools are showing interest in participating in various activities; hence, even today, after the ceremony at Raj Bhavan, their volunteers and staff went to schools to enroll them as Junior Red Cross. She also added that they are attempting to mobilize all district branches to give their utmost as some district IRCS are doing extremely well while others are not.
According to her, because the Red Cross is dependent on government donations and grants for survival, and is a non-profitable institution, when financial support is required to keep it functioning, it has been challenging for the society. However, because there is a lot of support and donors from well-wishers including the CM, she said, the Society has been able to help more people.
Finally, she challenged the Mokokchung District Red Cross Branch to do their best and urged the Mokokchung public to join the Red Cross Society for a better tomorrow.
"Mokokchung District must come out in full swing," she added.
Encouraging turnout for Mokokchung
Meanwhile, Dr Takosunep Ao, Honorary Secretary IRCS Mokokchung, said that more than 25 students came forward for enrolment today. The district, according to him, has around 1000 Red Cross members; however, he mentioned that Mokokchung does not have a Youth Red Cross.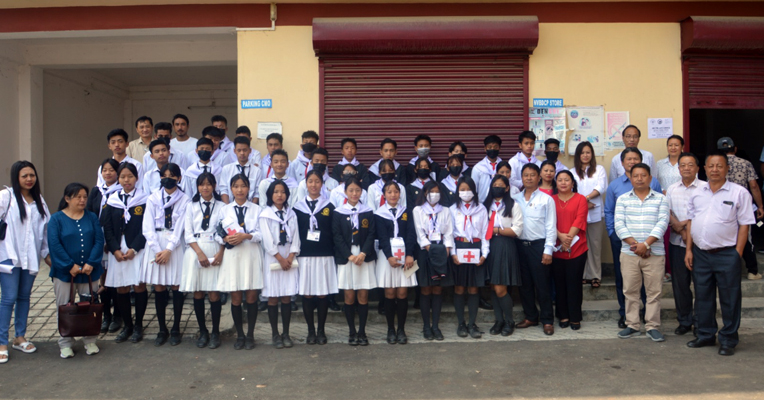 He also told Mokokchung Times that for the first time, the day was celebrated with all Red Cross Units at the CMO Conference Hall, Mokokchung, where two Junior Red Cross (JRC) units participated: Mayangnokcha GHSS and Mokokchung Compound High School.
"Previously, JRC celebrated the day only in their respective schools, but we would like to celebrate it together starting this year," he explained.
IRCSN Mokokchung contribution
The Indian Red Cross Society Mokokchung District Branch was established in 1988 and has been doing well, according to Dr Sunep.
"About 15 years ago, SBI donated us an ambulance, and at the time, we were the only operational ambulance in the district. During the pandemic, the ambulance transported several patients. We made certain that the ambulance cost was significantly lower than the average rate, and as a gesture of good will, the Society would always hand over a small sum of money to every patient who took our ambulance," he explained.
However, he noted that the ambulance service had been disrupted for a while when it broke down while transferring patients during the Covid pandemic. He also recalled that the SBI gave the IRCS Mokokchung the district's first hearse van, which is still stationed in the District Hospital and assists residents in carrying the deceased.
"Ever since NSDMA formation, the task of the Society has reduced but the new enrollment has been quite encouraging," he said while asking those interested to visit the CMO and Red Cross office.
According to him, his only regret was the inability to complete a proper Red Cross building in collaboration with the district hospital, which he had hoped to undertake.