Dimapur, March 13 (MTNews): The Nagaland Art Center, located at IMC Hall, Dimapur is hosting an international art exhibition titled 'The Healing Season', featuring the works of Limatola Longkumer from Nagaland and Heather Layton from the United States.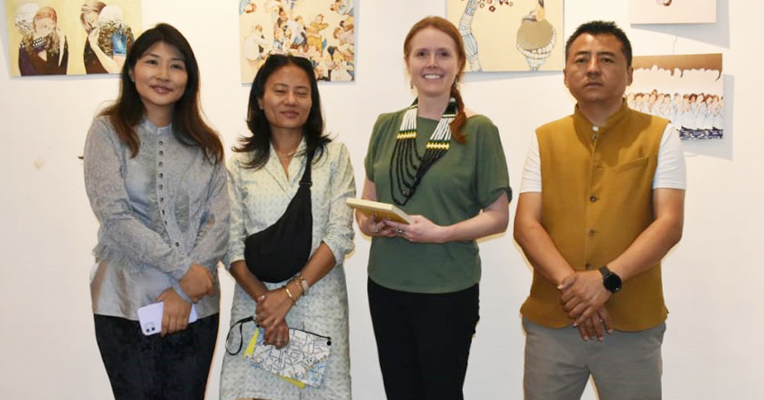 The exhibition showcases a range of paintings and drawings, and the artists also display the results of their collaboration for which they exchanged artworks in the weeks leading up to the show, using imagery to communicate rather than words.
Heather Layton is a contemporary American artist who often addresses issues including women's history, politics, and intercultural relationship building. She has exhibited her artwork globally, including at the International Museum of Contemporary Art in Alaska, the Museum of Contemporary Arts Long Island in New York, and the Haslla Art World Museum in Gangneung, South Korea. Layton has been recognized with numerous awards and grants for her community-engaged projects and innovation in teaching.
Limatola Longkumer is a visual artist who is self-taught and defies traditional norms by using her art to address taboo topics such as sensuality and sexuality. Her artwork is rich in symbolism and draws inspiration from nature, music, women, and love.
According to the coordinator of the center Ababe Ezung, the exhibition runs until March 31 from 10 am to 5 pm and is open to the public. He mentioned that the artworks housed at the center as well as the ones being showcased in the ongoing exhibition are for sale and added that through the center, which he runs with his wife Sentienla who is also the coordinator of IMC and Nagaland Art Center, he aims to give a platform to the artists.
The exhibition aims to encourage people to reconnect with the natural world and each other, following an era marked by disconnection. The artists hope that their art will inspire audience members to restore optimism, rebuild strength, and rediscover the infinite number of ways to find joy and beauty in this resilient world.