Known for her humorous contents in YouTube, Aseno Ayemi, who has also just started her acting career with the film, 'Losha: The King in the Making', is synonymous to the term 'happy pill' for more than one hundred and one thousand subscribers of hers.
Aseno's unique ability to blend into various characters such as the colony aunties, Savili ama, Bokato, Komolika are some few reasons why people just can't get enough of her.

The cheerful Aseno who celebrates her birthday on September 9 grew up along with her five siblings in Kohima. While growing up, Aseno always felt that she was the one left without a talent in the family. But that assumption didn't stay true for long when she pursued content creation during the pandemic.
Graduating from Baptist College Kohima, Aseno was someone who always loved being on stage and mimicking or impersonating people and that, today, has helped her to become a much loved and adored YouTuber/entertainer in Nagaland.
Aseno also comes from a diverse background where her father belonged to the Sumi community and her mother to the Angami community. According to her, growing up with diverse roots helped her to become more open minded and believes that she got the best of both worlds.
"Growing up in a diverse community has taught me that a person's worth should not be determined based on their ethnicity, religion or skin color. It really taught me the importance of love, acceptance and equality and has shaped me into the person I am today. I am really grateful for my roots," she said.
On trailing down her efforts to walk on the thin line by making sure her 'community jokes' doesn't offend anyone, she explained how challenging it is as she has to make sure that she finds no one on the other side of her fence.
"I am actually very conscious when I make contents but fortunately, so far, because of God's grace, I haven't managed to offend anyone," she said, taking a sigh of relief.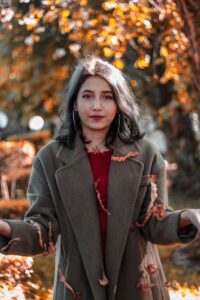 Aseno is known for playing multiple characters in her videos all by herself. She is often seen playing an Angami lady, a Sumi lady, an Ao lady and sometimes even a dad. Despite having to play multiple roles, she shared that she has no plans of getting any assistance and prefers to manage it alone.
"It's just there are things and characters which I want to deliver all by me. Because when someone else does it, it doesn't reach the kind of satisfactions I need and expectations I have. So, until I find someone who can really fulfill my expectations, I'll be doing it all alone."
Apart from her comical concept and script, her ability to speak multiple Naga accents is one of her trademarks which she believes is because of her ability to learn quickly.
"I am actually a very quick learner. For instance, if you are from Sangtam tribe and you share a conversation with me, I easily pick up that accent. It is indeed a God's blessing and I am truly grateful," she said.
In her spare time, it is no surprise that she watches a lot of TV shows as her infamous character, 'Komolika' is nothing more than an inspiration from a Hindi soap drama named 'Kasautii Zindagii Kay'.
"Now that the Komolika show no longer airs, I watch a lot of other TV shows, especially Crime Patrol, in my spare time and that's probably how some of my recent contents have been based on Crime Patrol," she jests.
Taking a moment of silence to pick her favorite YouTube content creators, she shared how difficult it is to pick and finally mentioned that 'Lambu and Skinny' is one she enjoys a lot.
Aseno's iconic characters are the 'Colony aunties' which, according to her, is also her favorite because it is the only character that helps her express genuinely about issues in Nagaland unfiltered.
"The moment I get into those aunties' characters, I get really comfortable and am able to speak genuinely on issues about Nagaland unfiltered and that makes colony aunties my favorite characters to play."
Aseno will also soon be seen in the February released trailer, 'Losha: The King in the Making', a production under BZ entertainment, produced by Rising People's Party. The movie is based on clean election and features actors from the likes of Dreamz Unlimited team, Boss Meren and Bollywood actor Zhokhoi.
"Losha is one of my big breaks in terms of acting. The movie was set to be launched in February but it has been rescheduled to I don't know when," she said.
Speaking about her further plans for acting, she explained how she would love to pursue an acting career given the right opportunity.
"I have auditioned for various productions but I am yet to receive responses and confirmations. I do need to be in Mumbai to pursue a full-blown acting career and try for auditions but at the moment there are financial limitations. So, let's see if YouTube can help me with it or not."
Talking on the aspects of making a career through YouTube, she stressed on the need to be 'consistent'. Although she's happy making content on YouTube, she hopes and wishes to do more in life and would love to give herself a chance.
However, she believes that YouTube can give people a career now in Nagaland with the right formula and efforts.
"A YouTuber really needs consistency. In my case, apart from the usual comedy I do, when I do other videos such as Vlog, the response is not so great. So, it's important to know the kind of audience we want to target and give our entire focus on being a YouTuber.  A lot of people have started and dropped it halfway as they are unable to focus on it entirely. It shows that jack of all trades and master of none doesn't really work. Just stay focused, be passionate about what you do and make sure your first video makes a good impression," she concluded.