In a momentous occasion for the constituents of 24 Angetyongpang A/C, its elected representative Tongpang Ozukum, Advisor, Water Resources, unveiled a brand new excavator and an ambulance during a dedication program at his residence in Alempang Ward on Friday.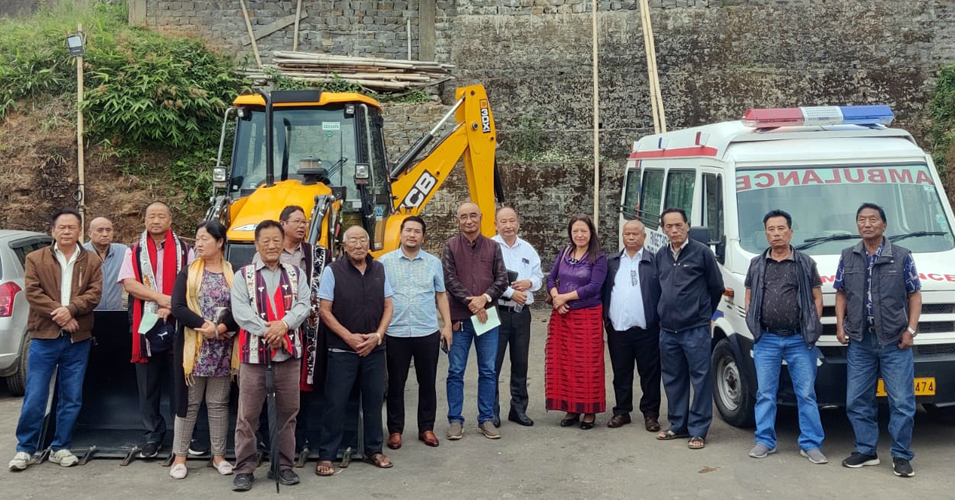 In the event, attended by NDPP officials, community leaders, and constituents, Ozukum emphasized the importance of providing adequate resources for the betterment of the constituency and ensuring the well-being of its residents.
Ozukum stated that acquiring an excavator (JCB) and an ambulance for the constituency had been a long cherished dream of his. He congratulated the constituents for acquiring the excavator through the 2nd installment of the LADP fund of the constituency which was released in the month of March.
He said, "In this growing age, the excavator is a crucial resource and it is set to significantly enhance infrastructure development in the area."
Stating that JCBs and bulldozers were available in his previous tenure even though not for free of cost, he said that the case won't be the same now as he no longer holds the same portfolio.
The Advisor also said that the excavator would be managed by a dedicated A/C committee following strict guidelines.
Furthermore, Ozukum said that the ambulance was purchased by him in the year 2019 and was used in various needs of the constituents via the Hans Foundation. He said that the ambulance would run at a very nominal price for the needy of Angetyongpang.
He further expressed his optimism that such minimal gesture of welfare by the collective people would go a long way to develop the constituency.
The dedication prayer for the excavator and the ambulance was pronounced by Rev Temjen, Pastor, Chuchu Town Baptist Church.
Before the dedication prayer, short speeches were delivered by 24 AC NDPP Vice President, Dr Imtinungba and Alempang Ward chairman, Lemasashi. The program was chaired by 24 AC NDPP President, Nungshimayang, while invocation was pronounced by 24 AC NDPP Woman Organization President, T Anungla.
One can avail the services by calling +91 7005833794 for the ambulance and +91 8787620256 for the excavator (JCB). It was also informed that the Angetyongpang constituents will be able to avail a 30% discount off the service cost.