Mokokchung, December 21 (MTNews): Mokokchung District Art and Culture Council (MDACC) felicitated Jentiren Jamir, second runner-up of Miss Nagaland 2022 at Elate Hall, Mokokchung on December 21.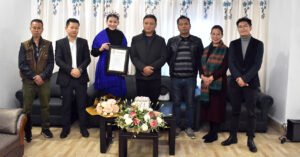 I Temsu Jamir, Vice President of the MDACC while congratulating Jentiren Jamir stated that the MDACC will act as a mediator and support her endeavors. He also encouraged the citizens of Mokokchung to support her during her audition for Femina Miss India in Guwahati scheduled for January 18, 2023. He also applauded her achievement and encouraged her to understand the needs of the society.
Jentiren Jamir acknowledged the MDACC for nominating her as the Mokokchung District representative, as well as the people of Mokokchung for their support throughout her journey at the Miss Nagaland 2022 Beauty Pageant.
"Miss Nagaland 2022 was an amazing journey," she remarked, and pledged to avail the services of MDACC in any given capacity to be productive in the society.
Jentiren Jamir won the 2nd runner-up position and the sub-title of Miss Beautiful Skin at the Miss Nagaland 2022 Beauty Pageant which was held in Kohima on December 9, 2022.