Mokokchung, 7 October (MTNews): The Theatre and Music Club of Mokokchung College of Teacher Education, in collaboration with the District Mental Health Program, Mokokchung, organized an 'Awareness Programme on Mental Health' at MCTE on 6 October 2023, based on WHO's theme, 'Mental Health is a Universal Human Right.'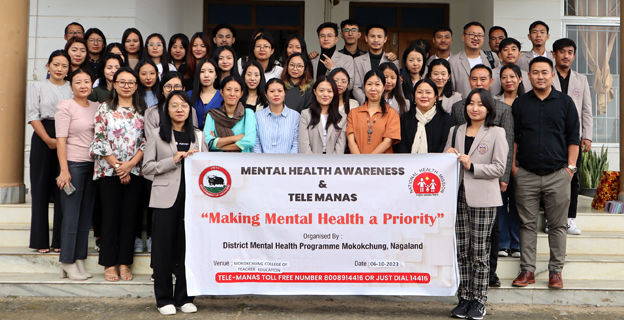 The program commenced with Moalemla, the Librarian at MCTE, outlining the program's objectives and underscoring its significance in raising awareness about mental health. Dr Narola, DPO (NCD), Achila, a Clinical Psychologist, and Monica, a Psychiatric Social Worker, served as the program's resource persons. They stressed the pivotal role of mental health in our overall well-being and the importance of educating individuals about mental health disorders as a critical health concern.
A central message of the program was that individuals facing mental health challenges should not experience stigma; rather, they should receive the necessary help and support to address their issues promptly, before they escalate into serious concerns.
The resource persons also provided insights into effective strategies for managing daily stressors, as unchecked stress can contribute to mental health problems.
The program concluded with a vote of thanks delivered by Kerilhusa Peseyie, Assistant Professor at MCTE.