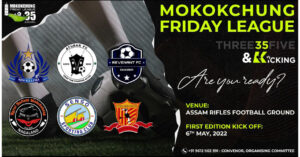 Mokokchung. April 25 (MTNews): Football fans in Mokokchung were taken by surprise when the news of Mokokchung Friday League broke on social media Monday evening. The league aims to bring people and players who are 35 years of age and above together through football. Mokokchung Friday League is a health-conscious initiative that aims to encourage those people who are thirty-five years and above to adapt to healthier lifestyle by playing football. The initiation is taken up by 5 friends who are ardent lovers of football namely Jamonger, Lipokyanger, Imliwabang, L. Anungba Imchen amd Imtiyanger Imsong.
"Our main objective is to prevent people from abusing alcohols and other intoxicating things. We hope that through this league, since people would love to play the game, they would become more conscious of their health and choose football over tobacco and drinks," said Imti, one of the convenors.
The purpose of the league is to provide players with an opportunity to play local football irrespective of the skills one has and to foster a community through brotherhood, while empowering health.
"Although we celebrate 'No Tobacco Day', it is only for one day but if you play football, it will be a constant thing and hence, it might encourage and help many to change their lifestyle," Imti added.
The football game will be played every Friday at Assam Rifle Ground from May 6, 2022 and shall be a league between six clubs for this first edition.
"Since it is the first edition, we are starting with only six clubs now but we hope that it will expand and even include the youngsters as well in the near future," he said.
He also mentioned that a member from each club shall be selected as a technical member and will help the five of them. The league hopes that anyone aching to get back into football with like-minded individuals will join them in this initiative.