Mokokchung, 11 August (MTNews): In an alarming incident, the generator powering the Jio telecom tower in Aongza ward, Mokokchung, caught fire at approximately 6:30 am on Friday, 11 August. The generator, kept within the Jio telecom tower enclosure in Aongza ward, burst into flames, posing a grave threat to life and property in the vicinity.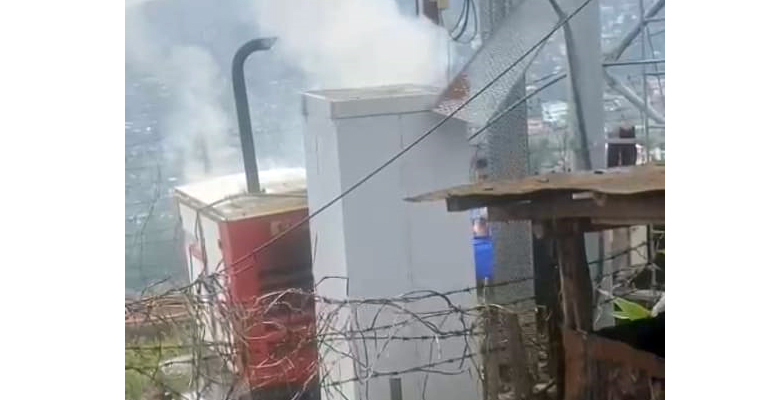 It was the prompt response of the neighborhood that prevented the fire from spiraling out of control, thus preventing significant damages. Local residents sprang into action, dousing the flames and effectively preventing a major disaster.
Aongza ward's chairman shed light on the situation, highlighting the tower's subpar construction, which he attributed to a hurried approach during its setup. He expressed concern about land degradation beneath the tower destabilizing the structure, rendering it incapable of properly sealing the enclosure's entrance.
The chairman revealed that the Aongza Ward Yimden had reached out to the company twice, formally addressing these issues through written communication. Regrettably, despite the correspondence, no concrete action has been taken till date.
"Structures like this should not be placed within residential areas, given the plethora of problems they bring along," the chairman emphasized. He further elaborated on the disturbance caused by the generator's noise, particularly impacting students during their study hours. The chairman shared that the ward has been grappling with these issues for an extended period.
Furthermore, he stated that the Jio Company's performance has been underwhelming, prompting the ward to intervene and halt the company's activities due to their failure to address submitted concerns.
The incident wasn't isolated, as the chairman pointed out that 3-4 days prior, a damaged fan in the generator was sent for repair, yet it wasn't replaced with a functional one.