Mongsenyimti village in Mokokchung district came alive with cultural fervor as the Tsüngremmung festival was celebrated with great enthusiasm today. The event, held at Ajajima, was hosted by Riongsanger Putu Menden, Mongsenyimti and it drew a distinguished crowd with Metsubo Jamir, the Minister of RD & SIRD, Government of Nagaland, gracing the occasion as the chief guest alongside other dignitaries.
Among the esteemed guests were prominent political figures including NDPP MLA S Keoshu Yimchunger , NPP MLA Dr Tseilhoituo Rhutso, NPP MLA Nuklutoshi, NCP MLA A Pongshi Phom, NPP MLA Benei M Lamthiu, and Advisor Tongpang Ozukum and Dr Kekhrielhoulie Yhome . The presence of such prominent MLAs from different tribes and political parties added a significant touch of importance to the festival.
Chief Guest Metsubo Jamir praised the unity of the Mongsenyimti village and emphasized the power of collective efforts in achieving great things. He commended Riongsanger Putu Menden of Mongsenyimti for their service to the people and their role in fostering unity within the community. He said that the village had been blessed because of its unity and added that the village would not have elected a two-term MLA if not for their unity. Playfully remarking on the presence of seven MLAs from different political parties, he quipped that politics was off the table for discussion on such a joyous occasion.
The Tsüngremmung festival showcased the rich and vibrant cultural diversity of the region, with captivating cultural dance performances and songs presented by various sections of society and drama clubs. The Arju Centre took center stage and captivated the audience with indigenous games, featuring bamboo climbing and tug-of-war competitions among others.
Advisor Tongpang Ozukum, addressing the gathering, expressed gratitude to the MLAs and Minister Metsubo for participating in the festival and pledged to make next year's celebration even grander. He envisioned a larger stage and a bigger gallery at the same venue to accommodate the growing interest and enthusiasm for the festival.
The festivities began with a warm welcome extended to the guests and dignitaries by Aosungit, the Chairman of Village Council Mongsenyimti, followed by a mesmerizing cultural song performed by Riongsanger Putu Mongsenyimti. The meaning and significance of Tsüngremmung were eloquently explained by Lipokzulu Longkumer, Tatar of Ungma village.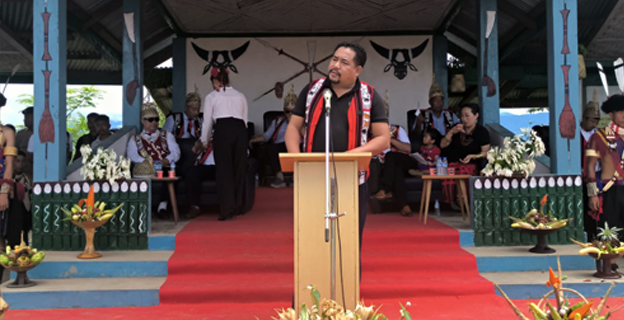 In his address, MLA Benei M Lamthiu cherished his Naga identity, proudly acknowledging his Ao mother's heritage. He stressed the importance of preserving and promoting the unique Naga culture stating, "In the entire country, one thing that distinguishes us is our culture," and encouraged the younger generation to take the lead in safeguarding their rich traditions.
The festival also saw diverse cultural performance from Jangyu Medem Cultural Club, Mongsenyimti; Chuchuyimlang Cultural Troupe, Arju Kimayim, Mongsenyimti; Sonshan Dancing Group, Yaongyimti New; Tiazulu Zünga, Mongsenyimti and Medem Reju Club, Mokokchung.