Kohima, 6 May (MTNews): The Commissioner & Secretary, Health & Family Welfare Y Kikheto Sema, flagged off six Mobile Integrated Counselling and Testing Centre Vehicles for Kiphire, Phek, Peren, Dimapur, Mokokchung and Zunheboto districts at the Directorate of Health & Family Welfare, Kohima today.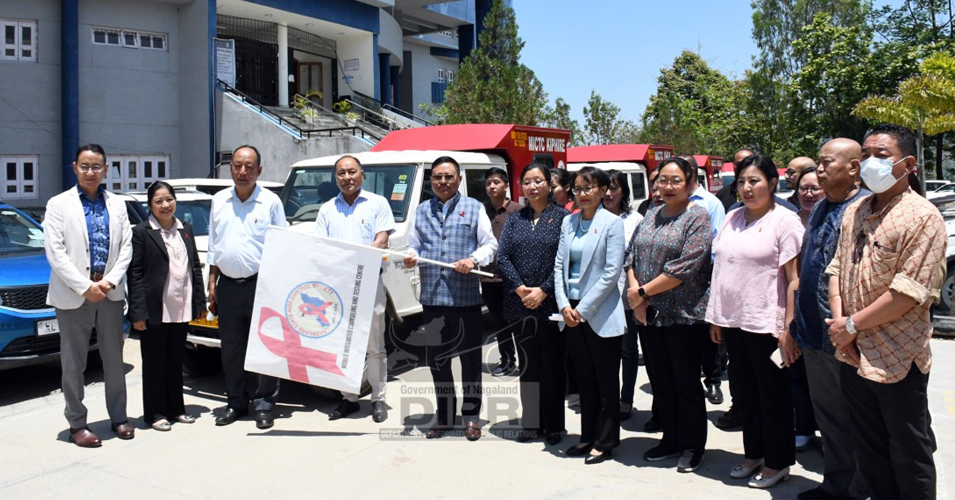 Speaking on the occasion, Sema stated that on 16 February 2023, four districts, namely Mon, Longleng, Tuensang, and Noklak, have received new Mobile ICTC Vehicles. The remaining districts, Wokha and Kohima, would be receiving within a short period.
He thanked the National AIDS Control Organization for recognizing the challenges and needs of Nagaland state health service, particularly in difficult terrains and difficult-to-reach areas, and for taking the herculean step of replacing ten old existing MICTC vehicles with new ones, as well as two additional vehicles, in a short period of time.
Sema added that Nagaland is one of the HIV/AIDS epidemic states, and that the GoI has contemplated replacing all new vehicles in order to meet the needs. These new vehicles come with more responsibility to deliver and so the officials of NCACS shall try to cover every length and breadth of the districts, he said.
Adult HIV prevalence in Nagaland second highest in the country
Nagaland's Adult HIV positivity stands at 1.61% which is the second highest in the country as against the national average of 0.22%. Therefore, he urged the officers of the department to work together with NGOs in synergy and scale up all efforts to Test, Treat and Educate the masses about this disease as well as other diseases which are envisaged to be eliminated by 2030 along the line of SDG.
Projector Director NSACS, Akuo Sorhrie gave the keynote address while Deputy Director, Asenla chaired the program.