Mokokchung Times Exclusive | Mokokchung | 13 September
Mokokchung town experienced a chaotic day on Wednesday, 13 September, marked by a series of vehicular accidents that have raised grave concerns about pedestrian and public safety.
In the early hours of 13 September, around 1:30 am, a Maruti 800 car careened into a steep drainage near the Estate Office, Alempang Ward, Mokokchung town resulting in the tragic death of a 39-year-old individual at the scene. His co-passenger sustained a forehead injury and was promptly transported to the hospital, but has since been discharged.
Mokokchung PS-I OC, VK Angami, informed this newspaper that they have initiated a suo moto FIR, and the case has been registered under "Unnatural Death" pursuant to section 174 CrPC, with the investigation still underway.
Later that same day, at approximately 4:00 pm, a Hyundai Eon vehicle, suspected of "rash driving" and "drunk driving," struck two individuals near the petrol pump in Sungkomen Ward. The victims, a mother and her daughter, suffered minor injuries and were promptly taken to the hospital; they have now been released.
Concurrently, at the same time, a Maruti van rammed into a stationary bus near the traffic police point in Mokokchung town square. Police sources attribute this accident to mechanical failure.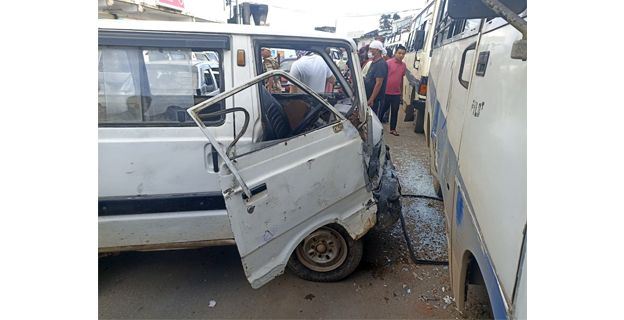 It is noteworthy that just two nights prior, on the IM Road stretch near The Restaurant 2 in Arkong Ward, around 10:40 PM, a hit-and-run incident occurred. An unidentified vehicle rammed into a parked car and fled the scene. Mokokchung police successfully traced the vehicle, leading to an amicable resolution of the case. Additionally, earlier on 15 August, another vehicular accident resulted in the tragic loss of a teenager's life, involving a Bolero and a motorcycle.
Concerns and Proposed Solutions
"The increase in the rate of accidents in the town is concerning," shared Arenla Longkumer, President of Watsü Mungdang. She believes that one of the contributing factors is drunken driving, but another significant issue is the ease with which anyone can obtain a driver's license. She emphasized that people these days are driving without sufficient knowledge of traffic rules, and obtaining a driver's license has become too accessible without proper examination.
Tongpang, the president of All Nagaland Taxi Association Mokokchung (ANTAM), shares a similar sentiment. He pointed out that while the number of vehicles is rapidly increasing in the town, the process of obtaining a driver's license lacks a rigorous testing procedure. He expressed concern that certain avoidable accidents occur because people hold driver's licenses without adequate awareness of traffic rules and regulations.
Regarding drunk driving, Longkumer suggests intensifying the use of measures such as 'breath analyzers' to monitor intoxicated drivers. Tongpang noted a decrease in the use of 'breathe analyzers' for checking over the past one to two years and suggested that such measures could help reduce accidents.
Imtimayang, LC of Mokokchung Traffic Police, agreed that the rising accident rate is concerning. He attributed it to the increasing number of vehicles, drunk driving, and driving license holders with less knowledge about driving. He also emphasized that accidents tend to spike during certain seasons such as now.
With regards to driving under the influence of intoxicants, Imtimayang mentioned that the department has been conducting checks using breath analyzers to the best of their abilities. He admitted that they have already reported about 9-10 cases, particularly involving two-wheeler riders. However, he acknowledged a shortage of manpower to conduct regular checks at every point.
He further added that factors such as driving without knowledge of traffic rules, lack of technical knowledge, and the use of modified LED lights are some factors contributing to accidents.
Additional Superintendent of Police, Mokokchung, Y Tunchambemo Yanthan, also shared his concerns about the rising number of accidents. He mentioned that they have been using breath analyzers to combat drunk driving every night. However, he stressed the importance of creating public awareness at this juncture. He expressed plans to conduct seminars with taxi drivers and other two-wheeler riders to raise awareness among the public. He believes that even minor actions like using headlights (dipper) at night are essential points of awareness they plan to address.