Mokokchung, July 23 (MTNews): The 34th Mokokchung District Badminton Open Championship organized by Mokokchung District Badminton Association (MDBA) concluded at the Indoor Badminton Stadium, Mokokchung, with District Planning Officer, Imlikokba Longkumer as the special guest on Saturday.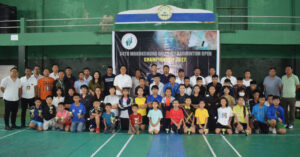 During a brief exhortation, Longkumer applauded the participants for expressing their hard work, dedication and commitment towards the sport.
He also went on to appreciate the organizers for organizing the tournament, stating that sporting events give platforms to the players to showcase their talents.
Longkumer asserted that winning or losing was part of the game but what marked importance was to take every lesson from the experience gained and make a stronger comeback in the future games.
Temsüinla chaired the closing ceremony, while Prof. Rev. K Dhanbir Rai, Clark Theological College, Aolichen delivered the invocation and Tiakumzuk, Convener organizing committee said the vote of thanks.
A total of 103 players participated in 30 different age categories during the tournament held across 4 days comprising 32 females and 71 males.
Winners of the tournament have been selected to represent the district in the forthcoming Inter-District Badminton Tournament to be held in August at Longleng.