Mokokchung, December 17 (MTNews): The first Winter Cosfest was organized by the Stalwart Group at the Mokokchung Town Hall on Saturday, December 17. The event was thronged by anime enthusiasts and people of all ages.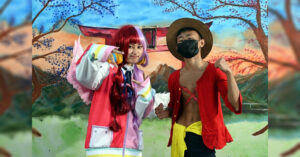 The winner for the senior category was Tiakumla (Uta) while Imsangpong Tzudir (Monkey D Luffy) won second position.
In the Chibi category, Ajumzenla (Japanese Girl), Moanula (Yurika Todo) and Jungshilong (Obito Uchita) were declared the 1st, 2nd and 3rd position winners respectively. The winners of both categories were awarded cash prizes.
The host for the event was Aotula who also enthralled the audience with a Japanese melody.
Stalls at the event opened at 10:00 am and the cosplay competitions began at 2:00 pm. The stalls sold delicious fast food and anime merchandise. For an event in its birth year, it received much love and support from the folks of the town, young and old.
The organizers said they are looking forward to having such events in the coming years which encourages the innate talents amongst the young people.