An unfortunate fire incident in Solo/Chiu Village, under Lahe Township, Naga Self Administered Zone (NSAZ), Myanmar on February 2 razed down 60 houses and multiple vehicles.
According to the Naga Students' Organization, Myanmar (NSO), who visited the village today, the village elders said that the fire broke out at around 4:00 PM from a solar panel that was placed on top of the thatched roof.
At least 60 houses and 1 morung have been burned down to ashes along with a car and 8 motorcycles while the roofs of 13 houses were destroyed to stop the spread of fire, the NSO said in an update.
"73 families consisting of 390 inhabitants were reported to have been affected," the NSO said.
Among the affected, 234 inhabitants are above the age of 18 while 156 inhabitants are said to be under the age of 18 years including newborns, toddlers, children, women, men and old age villagers.
"So far the Myanmar government hasn't responded with any relief and is not expected to do so due to the unstable government in the country," NSO said.
"NSO requests every individual and groups from both East and West of Naga Land without borders to pray and share the pain together with our brethren of Solo Villagers in this desperate time," the update appealed.
"This is very unfortunate when everyone is getting busy preparing their dry fields to be sowed by March and April all over the Naga Hills," it added.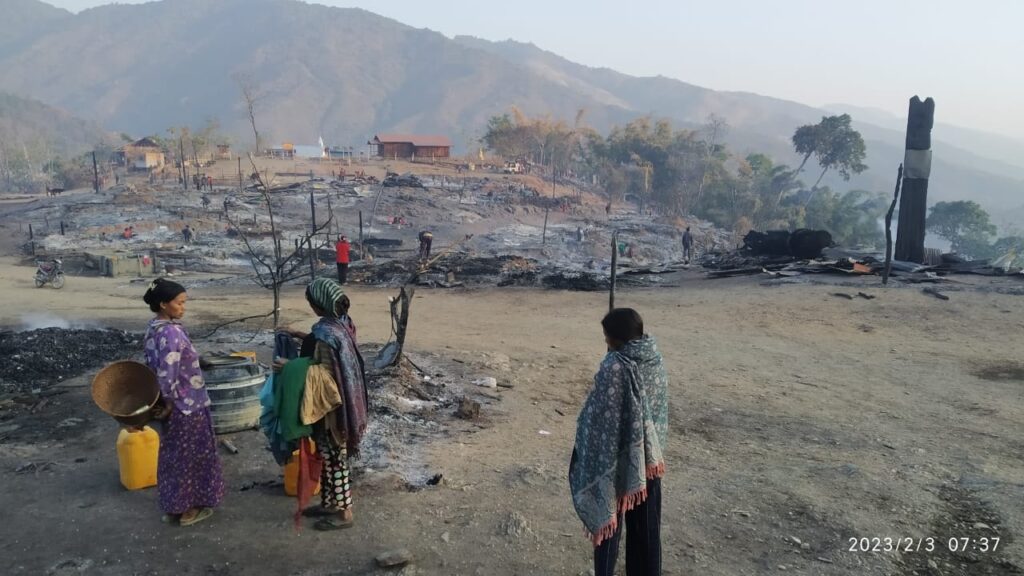 Photos courtesy: NSO Media Cell