Mokokchung, March 20 (MTNews): Along with the rest of the world, National Oral Health Program (NOHP) Mokokchung observed World Oral Health Day under the theme "Be proud of your mouth" at Government Middle School Kumlong, Mokokchung on 20 March, 2023.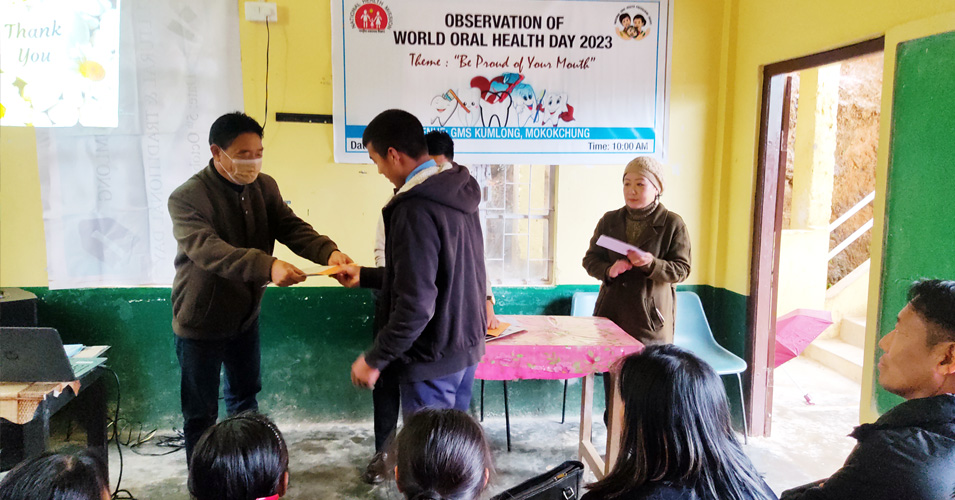 Presenting a health talk on the occasion, Dr Sentirenla, Dental Surgeon, IMDH Mokokchung, stressed on the importance of oral health as "the window to overall health."
She expressed the importance of oral hygiene, the ill effects of its negligence and the ill effect of tobacco use on oral health. She demonstrated to the students the proper tooth brushing steps as a way towards maintaining proper oral hygiene.
Free oral hygiene kits, consisting of a toothbrush and toothpaste, were also distributed to the students on the occasion.
Marking the occasion an essay writing competition as well as painting competition was held at the school.
In the essay writing competition, 1st prize was awarded to Mr Pukhio of class 8, while Mr Nokgen of class 6 bagged the 2nd Prize and consolation prizes were awarded to Miss Chongkoi of class 8 and Miss Chongkimang of class 6.
In the painting competition, 1st prize was awarded to Miss Therali Kikon class 4, while Mr Tsuyeh of class 5 was awarded the 2nd prize and consolation prizes were awarded to Mr Chulem of class 5 and Mr Bangmai of class 5.