Mokokchung, July 7 (MTNews): The 31st edition MUSICFEST, organized by the Mokokchung Town Baptist Church Youth Department under the theme "Taochi" got underway at MTBA this evening. Exhorting the attendees at the inaugural of the two-day event, Rev. Ponen Longchar, Pastor MTBA spoke about the significance of the theme "Taochi" which translates as 'Mercy'. "Be a vessel for God in life," he said while addressing everyone present to "walk in the ways of the Lord not only inside the church but even while outside the church." He added, "Through the MUSICFEST, we should pronounce to the world that God's mercy has freed us."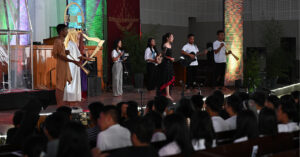 The inaugural night of the event was chaired by Aben Imsong while Rev. Senti Jamir invoked God's presence. The main highlight of the opening night of XXXI MUSICFEST 2022 was the 'Battle of Worship Bands' where worship teams from nine fellowships under MTBA Youth Department vied for the ultimate winner's title. The results will be declared on the second night. The judges for the competition were Arenlong Longkumer, guitarist; Lima Lemtur, Asst. Professor, NBC; and Imnanaro, Associate pastor youth, Ngati Baptist Church.
Performances by various youth artistes from the 9 fellowships under MTBA Youth Department as well as other neighbouring churches will feature on the second night.