Dimapur, 9 November (MTNews): The two-day Triennial Conference cum National Seminar organized by All Nagaland Government College Teachers' Association (ANGCTA) in collaboration with the Dimapur Government College Teachers' Association (DGCTA) started on 9 November 2023 at 3:00 pm, at the Central Library of Dimapur Government College under the theme "Higher Education in Transition."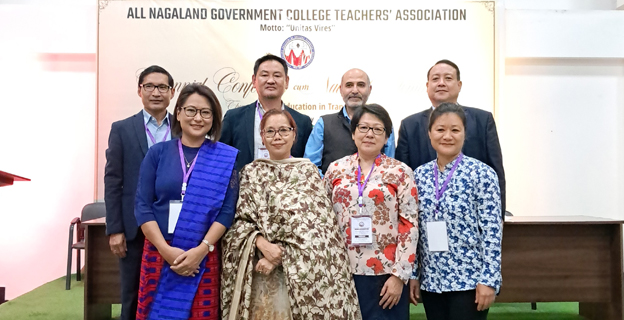 Inaugural Session Highlights:
The introductory session was chaired by Dr Vinyuhu Lhoungu, Assistant Professor, Department of Economics, DGC. He warmly welcomed the principals and participants from all the government colleges of Nagaland. He specially thanked Fazl Ali College, Mokokchung for designing the logo, and for coining the motto "Unitas Vires" of ANGCTA.
Invocation was delivered by Sedevino, HoD, Department of Political Science, DGC followed by a welcome note from Lhipe Naro, President DGCTA. He gave a brief highlight about the Host College and mentioned that there is a shift in focus from lecture-centric to learner-centric teaching in higher education. He further emphasized that a serious intellectual recourse is the need of the hour.
Dr Yelhi Vero, General Secretary, ANGCTA threw some light on the college teachers' movement in Nagaland starting from ANGCTA's journey from its inception in 1986 till date, highlighting the struggles and sacrifices made by the forerunners of ANGCTA. This was followed by a special song from SCTETA (State College of Teacher Education Teachers Association).
The session concluded with closing remarks from the chairperson.
Panel Discussion on Higher Education Challenges and Prospects:
In the second session, a panel discussion on the topic "Current State of Higher Education in Nagaland and the Way Forward" was held with Dr A Sentiyula, Associate Professor and HoD, Department of English as the Moderator and P Sentitola Longkumer, Assistant Professor, Department of English, Peren Government College, Peren as the rapporteur.
The Panelists were included Dr Wati Imchen, Principal, Fazl Ali College, Mokokchung; Dr Vitsosie Vupru, Principal, Kohima College, Kohima; Dr Meripeni Ngully, Associate Professor & Head Department of History, Dimapur Government College, Dimapur; Dr Wenyitso Kapfo, Associate Professor & Head , Department of Botany, Kohima Science College, Jotsoma; and Dr Bendangyapangla, Associate Professor, State College of Teacher Education, Kohima.
Dr Wati Imchen spoke on various ailments and challenges faced by Higher Education in Nagaland.
Dr Vitsosie Vupru spoke on balancing academics along with co-curricular and extra- curricular activities and Career Advancement Scheme (CAS) under Higher Education.
Dr Meripeni Ngully spoke on Gross Enrollment Ratio (GER) in India focusing on North-East, specifically Nagaland.
Dr Bendangyapangla gave an introduction to Integrated Teacher Education Program (ITEP) which is part of NEP 2020 and the urgent need to address the challenges that hinder its implementation.
Dr Wenyitso Kapfo talked about the need for collaboration with local entrepreneurs or taking input from outside academia for skill development/ enhancement based courses. He also highlighted the need for diversity of teachers and students in Higher Education. Finally, he emphasised on the need to create courses that are meaningful.
A brief discussion followed with exchange of views from among the delegates.
A brief summary of the session was given by Rapporteur P Sentitola Longkumer and the session concluded with closing remarks from the Moderator, Dr A Sentiyula.