In a momentous and historic development, a land/boundary dispute between Pherima and Piphema Village that had lasted more than eight decades eventually came to an agreement on June 24, 2023, which was witnessed by Western Sumi Hoho and Chakroma Public Organisation.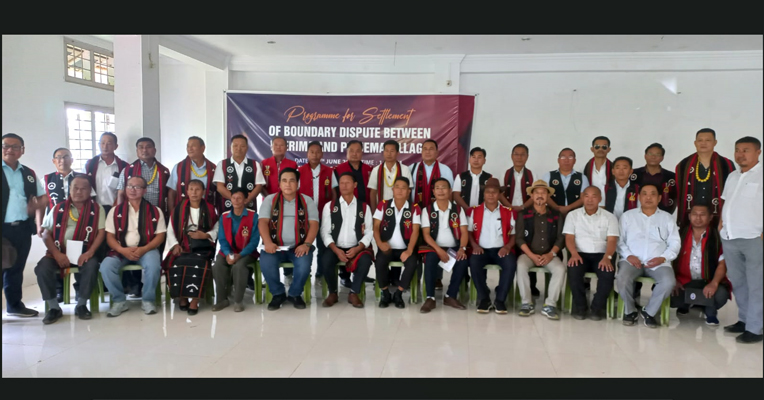 Officials from WSH, CPO, leaders from other organisations, as well as leaders, GBs, and council members from both villages attended the official programme that was conducted at Mid-Way Resort Tseipama village to commemorate the occasion. Pastor Piphema 'A' Baptist Church's Mr. Pezangulie Keyho had earlier recommended the laying of a border pillar and a prayer.
The president of the Chakroma Public Organisation (CPO) Mr. Zhato Kimho, the head GB of Pherima village, Mr. Vikato Ayemi, the president of the Western Sumi Hoho (WSH), Mr. Shikaho Zhimomi, and Mr. Pelezetuo Kuotsu, the president of the Piphema Khenu Krotho, all made brief remarks. Later thanksgiving and blessing was pronounced by Rev. Dr. Phughoto Sema, Executive Secretary, WSBAK
In the programme, Mr. Taka Masa, Sr. Advocate & Mediator for Pherima Village, gave a brief background of the case. He stated that after 85 years, finally with God's wisdom upon the leaders of both villages, this issue—which had been long-standing since British time and the case still pending at Guwahati high court bench—could be resolved amicably.
He said that on December 21, 2021, the two villages decided to withdraw the case from court and use mediation to resolve the issue. On March 17, 2021, the court granted the mediators 60 days to complete their work.
On April 3, 2021, the two mediators representing the two villages, Mr. Taka Masa for Pherima Village and Mr. C.T. Jamir for Piphema Village, met with the leaders of both villages and conducted inquiries and investigations. During the process, they also sought for extensions from the high court nine times, and it ultimately took more than two years to resolve the conflict.
The final spot verification was completed on May 31, 2023, and both communities accepted the specified demarcation. On June 7, 2023, seven border stones/pillars were constructed. In the presence of WSH and CPO, the GBs and councils of the villages as well as the mediators signed the agreement papers. A celebration feast was at the end of the programme.
Media Cell
  WSH