"We are going to say bye-bye to backdoor appointments and so-called political appointments" – CM Rio
"This NSSB recruitment was transparent and it was on merit"- Chairperson NSSB, Sedevikho Khro
Being hailed as the "first exam result in Nagaland to be entirely rooted in meritocracy and transparency," the Nagaland government hosted a grand felicitation ceremony to honor the achievement of 587 successful candidates selected by the Nagaland Staff Selection Board (NSSB). The event took place at the Capital Cultural Hall in Kohima on 30 August.
"This is our 60th year of statehood, and today we are holding this felicitation program, which is also historic," declared CM Neiphiu Rio, confidently affirming Nagaland's transition towards genuine meritocracy. "We are going to say bye-bye to backdoor appointments and so-called political appointments," he continued and urged senior officials, politicians, and the public to play a part in removing backdoor appointments to achieve the desired results.
"You are here on merit," Minister Temjen Imna Along, who attended the program as a speaker, told the successful candidates. He then said, "But it was challenging for us" and further continued that CM Rio was the one who stood steadfast in the cabinet in support of the NSSB.
"This NSSB recruitment was transparent, and it was based on merit," Chairperson of NSSB, Sedevikho Khro, also reiterated and asserted that they would remain committed to the recruitment policy based on merit, justice, and transparency.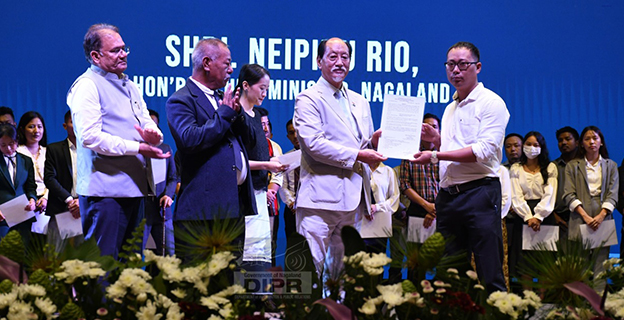 Reacting to the gesture bestowed by the government, one of the successful candidates told Mokokchung Times, "We were not expecting such a gesture from the government. I mean, it is a grade C job, so who would expect that such an honor would be given to us. So, I believe all of us there felt really glad and good."
The candidates also mentioned that their happiness stemmed not only from the conscious awareness that they succeeded based on their own merits but also from the fact that all the speakers in the program emphasized that their success was on 'merit and transparency', which was a great recognition.
"We were striving for a very long time in the interest of meritocracy and transparency which we have been pursuing as a political party and as an alliance," CM Rio recounted, highlighting how student bodies, civil society, and stakeholders rallied for a centralized examination system that ensured equitable opportunities for all.
Thus, in October 2019, the State cabinet established a drafting committee to formulate regulations for the Nagaland Subordinate Services Board. Despite an almost two-month delay due to Covid-19, the committee tirelessly worked and appointed the NSSB chairman.
CM Rio extended gratitude to colleagues for swiftly implementing the NSSB board and praised the unrelenting efforts of the Chief Secretary and Senior Board members in operationalizing it.
The Chief Minister expressed optimism that the demographics of the successful candidates—49% aged between 25 and 31—comprised a valuable pool of young, IT-savvy government employees who would be "assets" to the government. He hoped this infusion would facilitate the gradual dissemination of e-governance benefits to the grassroots.
Minister Temjen Imna Along hope that the NSSB's establishment would stop people from voting in return for jobs. He candidly addressed the pressure faced by the government regarding appointments, acknowledging the common refrain of "If you don't secure an LDA post for my child, our family won't vote for you."
NSSB Chairperson Sedevikho Khro shared a glimpse into the board's inception in July 2020 and official commencement on 25 August 2022. He informed that out of 50,583 candidates, who appeared for the NSSB examination, 24,058 were female and 26,525 were male. Science stream candidates constituted the majority at 47.1%. A total of 587 candidates secured positions across 45 departments.
Representing the successful candidates, Asenla Jamir attested that these 587 individuals epitomized the government's vision of meritocracy in the State. She expressed profound gratitude to the Nagaland government for its concerted effort in fostering a just and transparent appointment policy. This endeavor has not only inspired the younger generation to strive for excellence but has also convinced them that diligence and perseverance yield true success.