Kohima, 5 October (MTNews): The Governor of Nagaland and Chief Rector of Nagaland University, La Ganesan, stated that advocating for the cultivation of the Hindi language in Nagaland is not meant to supplant the rich cultural languages of Nagaland but to serve as a bridge to connect with the rest of India. The governor made this statement while speaking at the two-day national seminar on the status of Hindi teaching in Northeast India at the Lecture Hall, Department of English, Nagaland University, Kohima Campus on October 5. The program was organized by NU Kohima Campus in collaboration with the Central Institute of Hindi, Agra.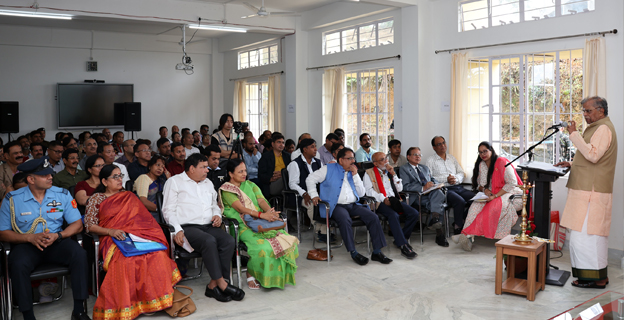 During his address, the Governor, who was the chief guest of the program, emphasized the supreme importance of education for the proper development of human values, the realization of imaginative potential, the building of a healthy society, and the prosperity and strength of a nation.
Recalling India's rich educational tradition, the Governor mentioned that India has been illuminating the world with the light of knowledge for thousands of years. He added that India's great intellectual tradition and educational system have produced many scholars who made original contributions to fields such as astronomy, mathematics, medical sciences, grammar, philosophy, yoga, engineering, architecture, and building construction, among others, in their own languages.
The Chief Rector noted that the glorious educational system of ancient India was eroded due to various historical and political reasons. Nevertheless, he expressed optimism that the new National Education Policy (NEP) implemented in 2020 aims to restore its former glory with a focus on education in mother tongues and local languages.
He urged participants to emphasize the importance of Hindi, not just as a language, but as a common thread that binds diverse parts of our great nation together. He stressed that languages are not solely tools for communication but also carriers of culture, tradition, history, and identity. He reminded everyone that the universality of Hindi often bridges linguistic gaps, fostering a sense of unity amidst diversity.
Chancellor NU, Dr Samudra Gupta Kashyap, delivered a special address where he highlighted the significance of Hindi and encouraged its promotion with optimism. Vice-Chancellor Prof Jagadish Kumar Patnaik also spoke on the growth of Hindi in all parts of the state and urged people to show keen interest in the Hindi language.